Member Choice Menu, Costume Display and more!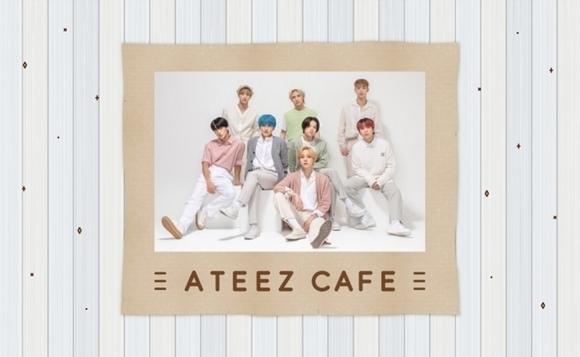 ATEEZ's collaboration cafe "ATEEZ Cafe" will open in Tokyo from September 3rd (Thursday) and in Osaka from September 26th (Saturday) for a limited time.
ATEEZ is an 8-member boy group from Korea that debuted in October 2018. The powerful and complete performance is very popular not only in Korea but also overseas, and in less than half a year after their debut ATEEZ made a tour in North America and Europe.
ATEEZ's first collaboration cafe with the theme of "Member's Choice!
As for the menu, the plate offers a set menu that includes foods selected by members and a mini dessert with salad. The single dessert is a dessert that focuses on the group and creates a special feeling, and picks up the elements of the ATEEZ discography and cafe logo. Also, drinks selected by the members will appear.
In addition, we decided to display the costumes worn by the members during the photo shoot at this cafe. We will exhibit "HONG JOONG, YEO SANG, SAN, JONG HO" in Tokyo and "SEONG HWA, YUN HO, MIN GI, WOO YOUNG" in Osaka.

[HONG JOONG] Pokunpap & Kinako Shaved Ice / [SEONG HWA] Cafe Original Chapaguri & Strawberry Cake

[YUN HO] Samgyeopsal & Ice Cream / [YEO SANG] W Chicken & Crepe

[SAN] Bulgogi & Macaron / [MIN GI] Crab Arabiata & Watermelon Jelly

[WOO YOUNG] Tappokuntan & Fuguim Jakurumutoku / [JONG HO] Seafood Bipinpa & Fruit Shaved Ice

ATEEZ CAFE PINS / ATEEZ CAFE TIRAMISU / ATEEZ CAFE PANCAKE

[HONG JOONG] Mango Smoothie / [SEONG HWA] Strawberry latte

[YUN HO] Choco Smoothie / [YEO SANG] Coke Float
[SAN] Lemonade / [MIN GI] Amazake yogurt

[JONG HO] America-NO (ICE or HOT) / [WOO YOUNG] Take Out Drink (Grapefruit & Blue Curacao)

"ATEEZ Cafe"
[Tokyo] OMOTE SANDO BOX cafe & space Omotesando Store
Period: September 3 (Thursday) to October 11 (Sunday), 2020

[Osaka] THE GUEST cafe & diner Shinsaibashi 161 Store
period: September 26, 2020 day (Saturday) to November 4 (Wed.)

– Reservation: August 7, 2020 (Friday) from 18:00 to (site open: 15: 00)
– Reservation deposit: 600 yen (with reservation benefits)

<Benefits>
・Advance cafe use privilege for pre-bookers: One person will receive a cafe original "PP Luncheon Mat (8 types)" randomly at the time of ordering a menu using pre-booking (600 yen (tax excluded) / 1 person) ..
・Beverage order privilege: One person will receive a random cafe original "Coaster (8 types)" for each person who ordered a drink menu at the cafe.

<Original goods> *All prices excluding tax
, acrylic stand (8 types of random) ¥1,200
, chocolate crunch (with 8 types of random stickers) ¥900
, acrylic coaster style key chain (all 8 types) ¥1,100 each
, drawing Pouch (1 type) ¥900
, can badge (random 8 types) ¥500
, reversible band (random 8 types) ¥800 * Members' handwritten design
, bandana (8 types in total) ¥1,200
, mug ( All 8 types) ¥2,000 each *Includes handwritten design by members

*Check the product design on the official website!

– Related Site
"ATEEZ Cafe" Official Site: https://ateez-cafe.jp/
ATEEZ Official Japan Official Website: https://ateez-official.jp/
Source: K-Style