People can't take their eyes off of them! ATEEZ keeps attracting everyone's attention with their talent. I had made a list with idols and more 16 months after ATEEZ debuted. Now it's their 2nd anniversary.
1.Eric Nam said ATEEZ stands out and is different from the other groups

"If you're competing against so many groups, you really got to stand out. Be it visually, be it sonically, be it performance-wise, be it personality-wise. It doesn't matter but you have to stick out and this is why I'm saying I think ATEEZ has a very bright future ahead. I'm on YouTube, I run into ATEEZ and I was like, 'Oh! This is different! There is something different about this group. I can't put my finger on it but they are not doing what everybody else is doing. And that is what I think will set ATEEZ apart."
2. B.A.P.'s Daehyun said ATEEZ caught his attention and that they are so cool and reminds him of B.A.P.

3.EXID's LE chose ATEEZ as her favorite rookie group.
"I've watched their performance. They are very talented!"

4.NCT's Taeyong said he really likes ATEEZ's songs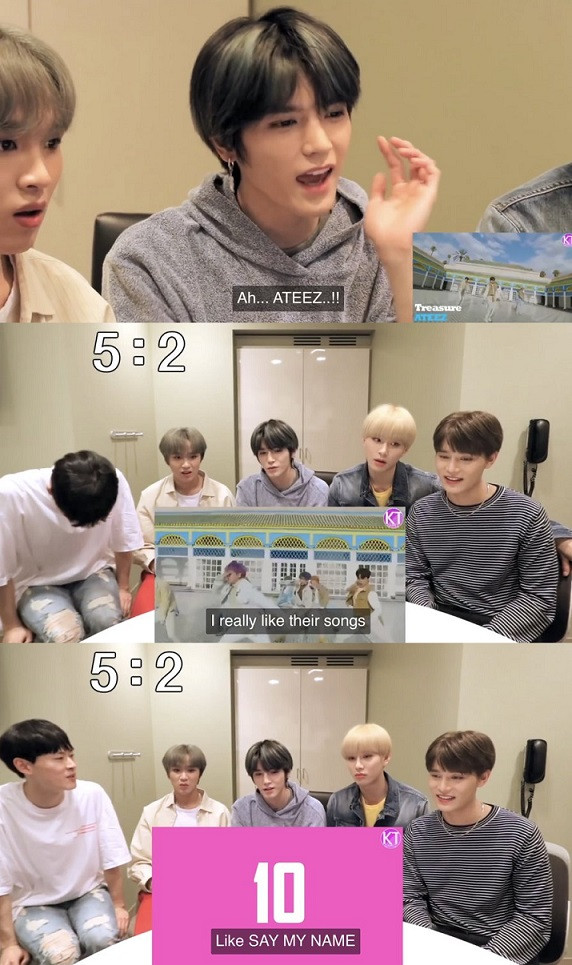 5.SS301's Youngsaeng chose ATEEZ as his favorite rookie group
"I've watched their performance videos even before they debuted. They are very talented." source
6.When Yunho met his role model TVXQ's Yunho on M!Countdown, TVXQ's Yunho said, "I know you very well, Yunho."
7.DreamCatcher's Siyeon named ATEEZ as her favorite boy group. She also said she likes ATEEZ's songs on DC cafe
8.DreamCatcher's SuA said all DC members went to see ATEEZ's concert
"Their performance is so good and they are so cool. I really like their songs. There are songs that really my style too, Really good."
9.SF9's Inseong praised ATEEZ's performance

10.KARD's Matthew said he saw ATEEZ's videos a lot and every member stands out + praised Mingi's voice
"Say my name, say my name.. I like rappers with low tone. Mingi is his name. I don't know him personally. I've never met them before. I've seen their videos many times and listen to their music a lot. I like his voice a lot, I like him. I like all of them, though. There is no member who doesn't have.. every one of them really stands out. Every one of them have their own charms."

11.ONEUS talking about being ATEEZ fans
Keonhee: After the filming yesterday, I think I just became a fan of ATEEZ.
Hwanwoong: We saw them performing their new song yesterday.
Xion: They're really cool. Awesome.
Hwanwoong: I think you can anticipate ATEEZ's new song.
Ravn: Brother!
Xion: It's really cool.
Hwanwoong: It's really cool, hakuna matata~

12.ONEUS' Keonhee chose the line "Hakuna Matata"(ATEEZ's Wave) which is in as the verse that left a big impression on him
13.ACE's Donghun sang ATEEZ songs during his V Live and said ATEEZ's songs are great
14.Sechskies' Lee Jaejin and Jang Suwon praised ATEEZ's performance
LJJ: "These kids perform so intensely.
JSW: "Their cherographies are so strong. They also sing very good."
15.Rookie group B.O.Y.'s Kookheon and Yuvin said they fell in love with ATEEZ's performance
16.BLOCK B's U-Kwon says ATEEZ is a talented group with visuals

17.Teen Top's Changjo shared ATEEZ's Answer on his Instagram story and said Jongho is so good + congratulated ATEEZ for winning on a music show. He also went to see ATEEZ's Seoul concert and shared a pic of the venue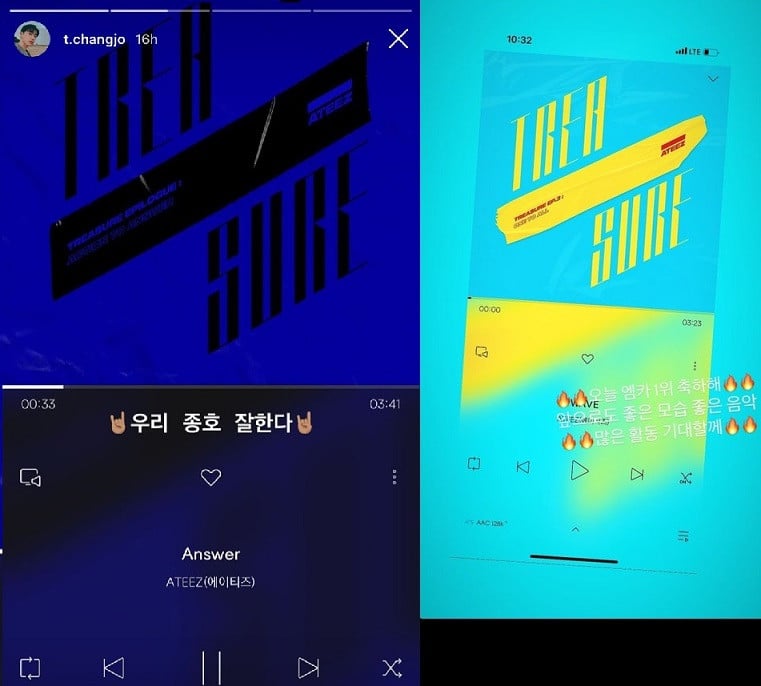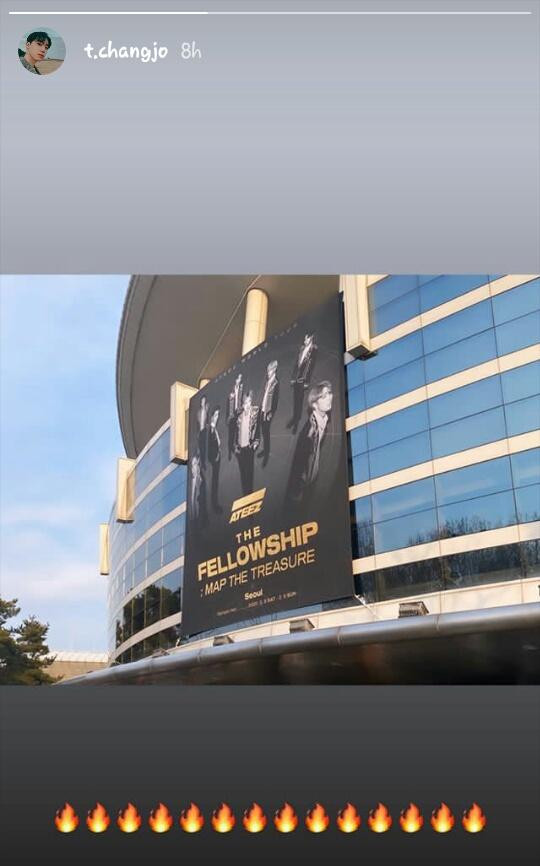 18.Park Jimin said she likes and listens to ATEEZ's Hala Hala so much+did a dance cover
"I drive a lot these days and I feel happy when I listen to songs in my car. I listen to ATEEZ's Hala Hala. When I feel sleepy I listen to this song. I like it so much."
19.A.C.E.'s Byeongkwan called ATEEZ the leading group of Kpop's next generation
20.JPOP Group EXILE Tribe's Rui Yonamine attended ATEEZ's event in Japan and shared the signed album he received from ATEEZ on his IG story
"I'm very glad to see you guys' performance. This means a lot to me."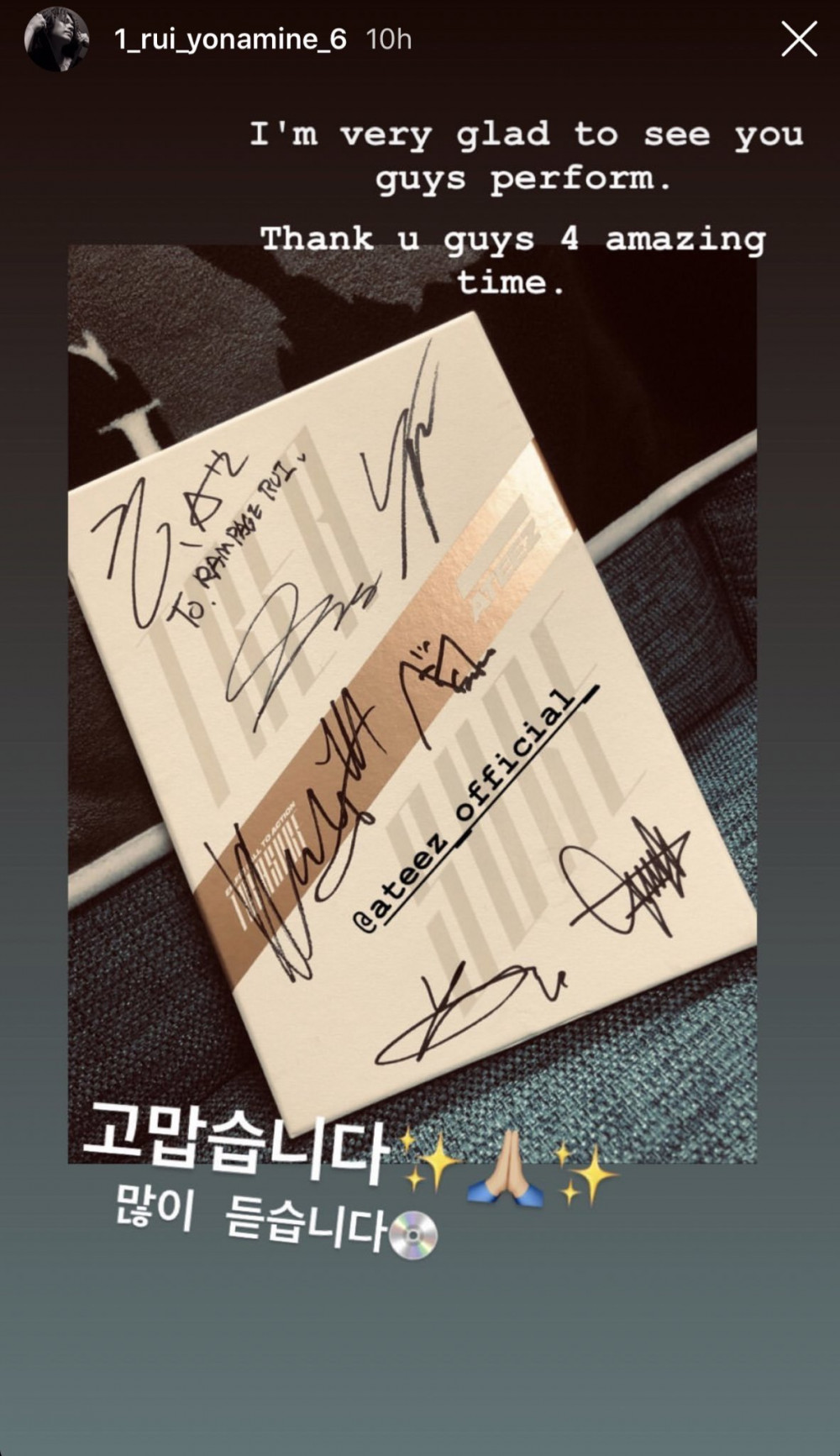 21.Rookie group Z-BOYS went to ATEEZ's waiting room to meet them and praised their performance
"We are really excited. We saw your performance. It was really amazing. We can feel the energy.. so powerful!


22.Rookie group TRCNG's Hohyeon said he thinks he's Atiny
23.Rookie group N.CUS' Seungyong said he loves ATEEZ and that Hongjoong is his role model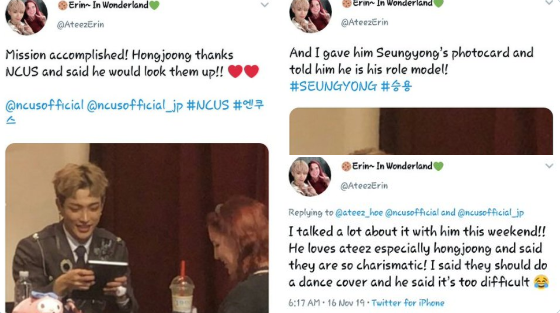 24.Predebut group Climix's Taehoon said his favorite group is ATEEZ and that Choi San is his role model
25.Predebut group Climix's Dohyun said ATEEZ's Hongjoong inspires him a lot and that he's his motivation. Also has a Hongjoong photocard in his phone case
26.Predebut group Climix's Minseog said ATEEZ is his favorite group
"I like ATEEZ. They are so cool. I always listen to their music and watch their performance. They are my favorite artists."

27.TRCNG's Jisung said he went ATEEZ's concert with friends and that he thought they were really cool

28.Block B's Jaehyo and Kyung went to see ATEEZ concert

29.Predebut group EBOYZ' Wonhyuk said ATEEZ is his role model

30.Woncheol of MY. ST who debuted only a few days ago went to see ATEEZ concert

31.Rookie group Aweek's Jinghyu is a huge Atiny and he looks up to Hongjoong
32.Rookie group TOO's Jaehyun said he's been listening to ATEEZ lately
33. Rookie group NOIR's Minhyuk and Yunsung went to see ATEEZ concert

Bonus: Here are idols covering and singing to ATEEZ's songs. Being covered by other idols might not be a big deal for senior groups but rookie groups' songs being covered or mentionedby other groups is very rare.

•A cover group did Seoul Music Awards 2020's opening with ATEEZ's Wonderland. What's more interesting about this is that it's the first time a ceremony is opened with a rookie group/song. (ATEEZ wasn't invited)
•CLC's Yujin and Seungyeon singing ATEEZ's Answer on their Instagram live
•Stray Kids singing and dancing to ATEEZ's Wonderland during their live broadcast
•Samuel covered ATEEZ's Say My Name choreography
•Rookie group Newkidd danced to ATEEZ's Answer
•DreamCatcher danced to Hala Hala

•Rookie group Aweek covered ATEEZ's Wonderland

•Rookie group GWSN's Mina did a dance cover of ATEEZ's Hala Hala and Wonderland
•SEVENTEEN's Seungkwan doing ATEEZ's Say My Name dance
•GRIEND singing and dancing along to ATEEZ's Say My Name

•GOT7's Yugyeom is dancing to ATEEZ's Illusion

•Rookie group CiCi covered ATEEZ's Hala Hala

•Rookie group BVNDIT singing and dancing to ATEEZ's Wave

•Nature's Lu singing and dancing to ATEEZ's Wonderland


•Winner's Seunghoon taught ATEEZ's Wave choreo during V Live

•Rookie group ENOi danced to ATEEZ's Answer

•DreamNote's Boni covered ATEEZ's Answer

•NeonPunch covered ATEEZ's Say My Name

•Aweek covered ATEEZ's Pirate King


•A.C.E.'s Byeongkwan covered ATEEZ's Answer and said the dance move is very cool
35.Lim YoungWoong (Mr.Trot's winner) chose ATEEZ as his favorite idol: "ATEEZ is cool, their facial expressions are also really cool. I like ATEEZ." *cr*
36.U-KISS's Kevin: "ATEEZ is the strongest rookie group I've seen in the past year. I saw them perform at KCON last year in New York and LA. Their performance was just mind-blowing. Just the energy, the stage presence that they all had. I couldn't believe that they were rookies. I felt like they were going at it for at least 5 years. They got so much swag on the stage. It's hard to believe that they are rookies." *cr*
37.CRAVITY's Serim: "I really want to work with ATEEZ. I've always dreamt of having a collaboration with them." *cr*
"I'm a fan of ATEEZ. I love their performances, and I want to be on the same stage with them." *cr*
38.CRAVITY's Allen: "I really look up to ATEEZ. Their stage presence and performances are on the other level. You can really feel their energy even just watching it through a video, and it makes me just as energetic as they are. *cr*
39.Super Junior's Eunhyuk: "ATEEZ is the next rising stars." "ATEEZ is the idol group I have my eyes on lately. I have to get my eye on groups with good performance since I like dancing." + Kwanghee added, "Eunhyuk doesn't talk that much, but he always said ATEEZ's performance is so good." *cr*
40.KARD's BM: [Q. Anybody that's caught your eye?] "ATEEZ. They are killing it. I've been a fan since they came out first because they are super talented. *cr*
41.Day6 Young K: "I remember them being crazy dancers. They had super high energy & the way they performed was good. I checked their music. I thought they had great music too" *cr*
"I have been watching ATEEZ for a long time, once I saw them performing Wave & "Hakuna Matata" left a strong impression on me, I think ATEEZ is really good on stage, seeing them live is even cooler."
42.Day6's Jae: "We saw them (ATEEZ) live a couple of times and they are mad talented!!" *cr*
43.Saturday's A Yeon: "They are the best. They do really good live too. How can you sing and dance like that at the same time? The performance is really great!"https://00d8e07b4d479fe1dfaf34f74b3999e6.safeframe.googlesyndication.com/safeframe/1-0-37/html/container.html
44.The Boyz' Sunwoo: "It's my first time seeing someone who sing live really well while doing a difficult choreography." *cr*
45.The Boyz's Jacob chose ATEEZ's 'Thanxx' as the stage he thought was cool *cr*
46.E'LAST's Wonhyuk said ATEEZ is his role model *cr*
"There are a lot of senior artists that I look up to, but among them 'Master at Facial Expressions,' ATEEZ's Choi San is someone that I admire. I always work hard to imitate him. I became his fan right away after watching fancam and his expressions on stage are really amazing. I really want our group to be a cool group just like ATEEZ." *cr*
"I've mentioned and talked about it a lot before. I really like Choi San sunbaenim and he's my role model. His expressions on stage move my heart. The keyword associated with him is "Master at Facial expressions and I would like to be one too. *cr*
"It's all about his charisma, his facial expressions on stage. Kind of these makes my heart move." *cr*
47.ELAST's Wonjun said ATEEZ is his role model *cr*
48.ELAST's Baekgyeol: "I'm a fan of ATEEZ's Wooyoung. He's my bias in the group." *cr*
49.ELAST's Rano said he purchased this checkered beret after seeing Hongjoong wearing it often *cr*
50.TOO's J.You: "I really like ATEEZ sunbaenims." *cr*
"I watch and learn from San and Hongjoong sunbaenims." *cr*

"My favorite members used to be Hongjoong & San sunbaenims, but now I like everyone. Wooyoung is sexy and I want to go to an ATEEZ fansign." *cr*
"I'd like to do a very strong concept like ATEEZ sunbaenims in the future." *cr*
"ATEEZ sunbaenim's TREASURE EP.3 is a masterpiece. Everyone should listen to it." *cr*
51.Jung Sewoon: "They dance perfectly in sync." *cr*
52.Kang Daniel: (commented under ATEEZ's Inception MV Instagram post) "It's cool" *cr*
53.Kaachi's Chunseo said she's a huge fan of ATEEZ and her bias is San. *cr*
54.Kaachi's Nicole: "ATEEZ is my favorite group and my bias is Seonghwa and Hongjoong. Chunseo's bias is San. "*cr*
55.PRECIOUS' Lee Soo: "San is my role model. I got inspired by him after watching Answer." *cr*
56.Secret Number's Jinny: "I'm a big fan of ATEEZ." *cr*
57.NOIR's Hoyeon: "I saw their(ATEEZ) concert; they were so cool." *cr*
58.Stray Kids' Changbin chose THANXX as one of the stages he thought was cool recently. *cr*
59.AleXa: "I really like listening to ATEEZ. I love their discography." *cr*
60.Golden Child's Y (Sungyoon) sang and ATEEZ's Wave and said he really likes that song. *cr*
61.F_ABLE's Hojun: "My biases are San and Hongjoong." *cr*
Hojun also had an ATEEZ group photocard and Wooyoung photocard in his phone case *cr* + *cr*
He has ATEEZ posters on his walls *cr*
Source: stigmata of allkpop